Experience
Colon Cleanse
90 Capsules - $47.95

If you're suffering from bloating, gas, heartburn and constipation, you may benefit from Experience®. This natural, vegetarian blend gently and effectively cleanses the colon and improves regularity. For generations, this 100-year-old Mediterranean recipe has been proven to work. *
Important Benefits: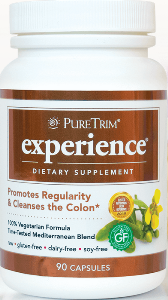 • Works gently and quickly*
• Improves Regularity and Cleanses the Colon*
• Vegetarian and natural
• 100 year-old Mediterranean recipe
• Experience Promotes Regularity and Cleanses the Colon.*
• A healthy colon is the key to nutrient absorption and regularity.
• This Mediterranean recipe is a natural vegetarian blend.
• Clinically tested
• 100% Gluten-Free
•Listed in the Physicians' Desk Reference (PDR)
for Nonprescription Drugs and Dietary Supplements.

Ingredients:
Experience contains a proprietary blend of Senna (leaf), Psyllium (Blonde) Seed Husk, Fennel (seed), Kelp (entire plant), Cornsilk (stigmas), Polygonatum (many-flower Solomon's seal) [rhizome], Chinese Rhubarb (root).
Suggested Use:
Take one capsule with a full glass of water before bedtime. Increase your serving size by one capsule every other day until you achieve your desired results.
Do not exceed 3 capsules a day unless directed by a health practitioner.
Drink 6 to 8 glasses of water throughout the day.
*You can also take this as a tea. Just empty the capsule into hot/warm water.
Add natural honey for flavor.