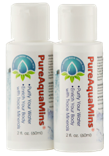 PureAquaMins
Helps remove up 99.9% of Chlorine, fluoride, anaerobic bacteria, viruses, protozoa, pesticides, herbicides, fungicides, heavy metals etc.
2 oz -
2 bottles -
$49.95


Ionyte
Coral Trace Minerals
Some have referred to it as
"liquid acupuncture".
It will boost your energy levels without the side effects caffeinated drinks.
4 oz - $29.95

Aqualyte Coral Minerals
Neutralizes chlorine in tap water, making drinking and cooking water healthier. Replenishes vital trace minerals, etc.
30 sachets - $29.95

OxyQuest
Formulated with two
of the most abundant
and important electrolytes
in body fluids:
sodium and chloride.
2 ounces - $33.98

With the use of Ionyte or Aqualyte
Please Listen to:

Testimonies Audio -

(

Lupus/Shogren's/Thyroid/Blood Pressure/Bone Spurs/Eyes

)

Join Basic Reset - Free

>

Less than $30 can change your life!


There is

no

monthly autoship

to

earn commissions on 10 levels

for helping others to find relief, some say miracle!

NEW Sign-up ALONG WITH Order will get 20% off by applying Code 20off (1st Orders only)
Order must be made at sign-up!
H2 Infused water

Over 500 studies show that molecular hydrogen or H2 has a therapeutic benefit in 140 health conditions and disease models.

Daily benefits of H2 infused water include: Increase in Energy - Adenosine Triphosphate (ATP) is the fuel that powers your cells during physical activity. Reduced Muscle Fatigue - When you exercise, your lactic acid increases. Improves your Hydration - When H2 molecules combine with and neutralize damaging oxygen radicals, they are transformed into water (H2O) - increasing your cellular hydration.

Does more than the Kangen Enagic Water System at Half the cost